Our Mission and Strategy
A collective sense of purpose for our church helps us to move forward together. This purpose, which is displayed through our mission and strategy, is simply a restating of the purpose that has been given to us by Jesus. Right before He went back to Heaven, He made sure that we understood the purpose of the church in the world, and we see this in the words of Jesus in Matthew 28:18-20.
And Jesus came and said to them, "All authority in heaven and on earth has been given to me. Go therefore and make disciples of all nations, baptizing them in the name of the Father and of the Son and of the Holy Spirit, teaching them to observe all that I have commanded you. And behold, I am with you always, to the end of the age." (ESV)
We have been given our purpose by Jesus, and below you will see the ways in which we work to follow Him.
Our Mission
Our mission is to make disciples of Jesus in NW Houston and beyond.
Our mission clarifies what we are to be doing in the world, particularly in our context. We have been called to make disciples, and since we are located in northwest Houston, we recognize that God has called us to reach out here. Our mission, however, doesn't end here. We see that God has called us to go beyond this area in every direction for the purpose of making disciples.
Our Strategy
We build relationships and equip believers to live on mission for the glory of God.
We have adopted a clear, three step strategy to accomplish our mission of making disciples. We focus on relationships, equipping, and living on mission.
| | |
| --- | --- |
| | We focus on relationships because we see that the greatest need for humanity is to develop real relationships with other people and with God. You will notice that our relationships icon has arrows that point both horizontally and vertically. The horizontal arrows represent the many relationships in the lives of people, and the vertical arrows represent the relationship that must be reestablished with God. |
| | |
| --- | --- |
| | We focus on equipping believers because we understand that everyone must be equipped for the task that they have been given. God has called believers to reach out to the world and to one another, and we want to focus on intentional equipping that helps them to develop the skills necessary to succeed. |
| | |
| --- | --- |
| | We focus on living on mission because a plan is only a plan until it is put into action. Jesus came on mission, and has invited us to follow Him! |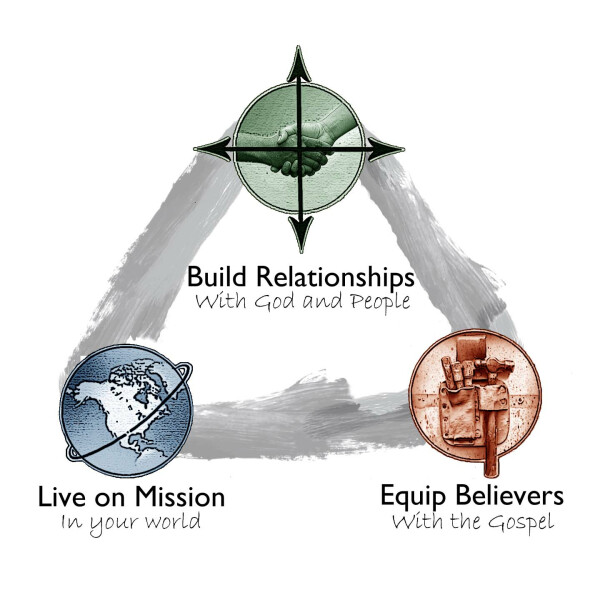 ---
Do you have any questions?